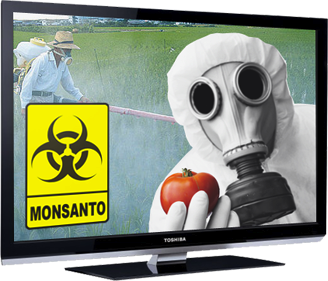 We're taking our fight against Monsanto to the next level.
Help us fund this national television ad campaign to shed light on Monsanto's greed and corruption at the expense of human health and the environment.
Over the last few months, you've helped us to level several well-aimed blows at biotech giant Monsanto.
In March, you joined us as we Occupied Monsanto facilities in Oxnard, California. Next you helped us launch a month-long public billboard campaign right in Monsanto's hometown of St. Louis, Missouri. Our goal was to raise awareness about Monsanto's crimes against human health and the environment and put the company on notice that the people will not stand for their actions.
Now, we're raising the stakes once again. NationofChange with the help of our readers is preparing a nation-wide television ad campaign with the explicit goal of revealing Monsanto's role of exploitation, corruption, and destruction and its cost on our communities and planet.
This week, we're raising $15,000 to produce and distribute a revelatory and enlightening television ad campaign to be shown on cable channels across the country.
The ad campaign will focus around:
Monsanto's arms race with nature resulting in super-resistant weeds and insect populations and the potential threat to the biosphere
Monsanto's unchecked influence on governments and and regulatory agencies like the FDA especially pertaining to the labelling of GMO food products
Monsanto's history of scientific fraud and market manipulation
Monsanto's human rights violations and legal attacks on small farmers
Monsanto's 'trade wars' with nations opposed to Monsanto and GMO Crops
As always, we receive no corporate financing of any kind. Instead, we rely on you to make small donations to empower us to take crucial steps to fight corruption and protect our people.
Your donation is 100% tax deductible and as a special incentive leading Monsanto investigative reporter, Anthony Gucciardi has donated his electronic book set: The New Health Paradigm as well as a Shopping guide to GMOs and additives yours free with any donation.
Help us take this fight to the next level and show the world that we refuse to allow corporations
Donate by Check:
Send a check to:

6319 Dante Ln NW,
Albuquerque, NM 87114
Other Ways to Give
Donate by Phone: Give us a call at 1-800-803-6045
Donate by Mail: Send a check to:
6319 Dante Ln NW,
Albuquerque, NM 87114
Donate by PayPal:
Make a Legacy Donation: Click here to contact us regarding legacy gifts.